"The Problem with Pauly" is the fourteenth episode of Season 2 of Sonny With a Chance. This episode originally aired on August 8, 2010.
Plot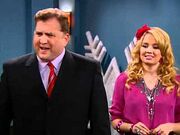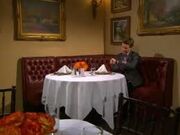 When
Sonny
discovers that
Mr. Condor
has brought her favorite childhood show
Pauly and Pals
to shoot on the lot, she arranges to attend a taping and gets to meet Pauly after the show. Also,
Chad
and Sonny are celebrating their seven week anniversary at a nice restaurant.
Sonny bribes Nico, Grady and Tawni into coming to see Pauly and Pals with her. Sonny then convinces Nico, Grady and Tawni to come meet Pauly with her for a price. Nico, Grady and Tawni push Sonny into Pauly's dressing room by herself. Pauly then reveals to her that he is a actually a man named Hank, who is ready to be done with the Pauly gig. Sonny pays him ten dollars for a chance to wear the "Pauly" costume. While wearing it, Hank asks her if she would mind filling in him for him the next day at a meet and greet. Sonny wants to accept, but she has a date with Chad. Eventually she decides she can fill in for Hank for an hour and then go on her date with Chad.
Before class the next day, Sonny calls Chad and informs him that she needs to push back their date an hour. During class Ms. Bitterman reveals that she intends to let her "gentleman caller" meet her cat, Dr. Mittens, but she isn't sure if Dr. Mittens is ready. She chooses to let Dr. Mittens meet her "gentleman caller".
Sonny goes to be "Pauly" for an hour. She is attacked by kids.
Later, when Chad shows up at the Prop House with flowers, Sonny is nowhere to be seen. He becomes worried when the signs of a girl losing interest (given to him by Nico and Grady) start to come true with Sonny. Chad is starting to become disheartened, so Nico and Grady offer him a chance to join their gaming group. Chad refuses and runs off.
Over at the Pauly and Pals set, Sonny is notices that Hank hasn't returned yet and he is supposed to have by now. She calls him and asks when he is going to be returning. He replies, "Never.", leaving Sonny stuck as "Pauly". Sonny goes to talk to Mr. Condor about Hank not returning, only to walk in on him speaking to another actor named Pepe. Pepe claims he was filling in for his friend who was having a baby. Mr. Condor gets angry and fires Pepe, his friend and the baby when it reaches eighteen. Sonny fears she'll be fired, so she covers up for why she came to talk to Mr. Condor and goes back to Pauly's dressing room.
In the dressing room, Ms. Bitterman is waiting with Dr. Mittens. She begins to flirt with Sonny dressed as "Pauly" thinking that it's Hank inside the costume. Ms. Bitterman goes to introduce Dr. Mittens to Sonny/Pauly, but Sonny begins to sneeze. Sonny sneezes the "Pauly" head off, revealing herself to Ms. Bitterman. Ms. Bitterman reveals that Hank is her "gentleman caller" and that now she believes that he has run away from her. Ms. Bitterman runs off with her cat. Sonny is called back to set as "Pauly".
Chad is now waiting in a restaurant for Sonny, denying that she isn't coming. Nico and Grady show up and start mocking him. Chad comes to the conclusion that Sonny has actually stood him up. Nico and Grady offer him the chance to be player three and join their gaming group. Chad is mesmerized by the shiny controllers, but refuses still and runs off.
Meanwhile, Tawni walks into the classroom after class to drop off a late essay. She is startled to find Ms. Bitterman sitting in the room petting her cat's box. They come up with a deal that if Ms. Bitterman gives Tawni a C+ that Tawni will get Hank back for her.
Chad is left concerned with the signs Nico and Grady told him, he goes to see Pauly (which is actually Sonny) and tells Pauly that he thinks Sonny isn't interested in him anymore when she didn't show for their date. Sonny then took off the bear head and said that she wasn't losing interest, she's just covering for Pauly but he didn't return. Chad and Sonny hunt down Hank at a smoothie bar, "Plushie", to try and convince him that he needs to be "Pauly". They eventually convince Hank that he is important to millions of kids and needs to be "Pauly" for them. Tawni and Ms. Bitterman appear and Ms. Bitterman introduces Dr. Mittens to Hank. Dr. Mittens attacks Hank. Ms. Bitterman decides that she and Hank are not going to work out as a couple.
The episode ends with Chad and Sonny sharing a smoothie. They end up both getting sick and throw up in "Pauly's" head. Hank walks through the smoothie shop and puts the head on even though Chad and Sonny try to stop him.
Cast
Guest Starring
Absent
Trivia
Both Sonny and Chad are superfans of Pauly and Pals.
While hugging, Chad and Sonny closed their eyes meaning they enjoyed their special moment.
Although Chad says Sonny's phone rang twice while he was in the Prop House, it rang three times at the Pauly and Pals lot.
The hot dog suit that Chad wears has been seen on other Disney shows such as in "Wizards of Waverly Place".
Tawni mentions the Jonas Brothers when she tells Sonny, "It's not a Jonas".
Sonny says that she found the slip of paper in Pauly's Pocket which parodies the toy "Polly Pocket".
Mr. Condor reveals that his first wife's name was Tawni so he now calls Tawni "Terry".
Sonny was shocked to see that there was a person inside the Pauly suit. She thought Pauly was a real polar bear like the other little kids.
This episode shows that Sonny has a unique talent of using her tongue. She is able to dial her phone using her tongue. Her tongue is also quite long than normal.
Pauly and Pals is a parody of Barney and Friends. Ironicly, Demi Lovato starred on Barney alongside Selena Gomez when they were younger.
This is the first time that Sonny is seen vomiting.
Sonny is allergic to cats. She was having a sneezing fit when Ms. Bitterman brought in Dr. Mittens.
Ad blocker interference detected!
Wikia is a free-to-use site that makes money from advertising. We have a modified experience for viewers using ad blockers

Wikia is not accessible if you've made further modifications. Remove the custom ad blocker rule(s) and the page will load as expected.