"The Legend of Candy Face" is a season 2 episode of Sonny With a Chance. It aired on May 2nd, 2010.
Plot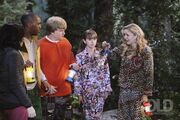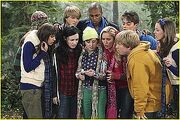 The casts of
So Random!
and
Mackenzie Falls
go camping together to end the rilvary between the two shows. On the camping trip, Ms. Bitterman, who is their chaperone, tells them the legend of a very dangerous creature called
Candy Face
, making everyone jittery. The next day when Grady wakes up, he notices that his 'GameGuy' is broken. As more electronics are found smashed, they blame it on Candy Face. Thanks to Zora's camera, Sonny discovers that she is Candy Face--she has a tendency to sleepwalk with a blanket draped over her head and shoulders and to go around breaking stuff, all in her sleep. She tries to hide it from both casts, who decide to put aside their feud and team up to destroy Candy Face, creating makeshift weapons. Sonny tries to stay awake to avoid getting attacked while sleepwalking, but to no avail. The two casts discover who Candy Face really is, and conclude the episode with a dramatic song about Candy Face.
Sketches
Starring
Guest Starring
Trivia
Grady's 'GameGuy' is a parody of Nintendo's 'GameBoy.
This episode and "Sonny at the Falls" are the only times we see Sonny wearing a Mackenzie Falls uniform.
This is also the first and only time we have seen Tawni, Nico, Grady and Zora wearing a Mackenzie Falls Uniform
Tawni shows her true feelings for Sonny when she believes Candyface tore Sonny's face off, and she cries, "Sonny was my best friend, I meant everything to her!!", and she agrees on getting revenge on Candyface with all the others.
Grady comments, "The candy is supposed to melt in your mouth, not onto your face", which is a parody of the M&M slogan, "The candy melts in your mouth, not in your hand" used during the early 1940s to the end of the 1990s.
This is a rare moment where the So Random! cast and the MacKenzie Falls cast united to reach a specific goal.
It is revealed in this episode that Ms. Bitterman demonstrates that she can play the cello.
Sonny's MacKenzie Falls uniform has a different style in this episode than the one in "Sonny at the Falls".
Candyface may be based on Candyman a man who Planitation Owners killed then stuffed in a beehive.
Towards the beginning of the episode when they start at the campsite, Ms. Bitterman says she's doing this to get a little extra money and says thanks to man named Bernie who made off with all of her money, it's possible that she could be referencing Bernie Madoff, who scammed many people out of their money and ran the biggest ponzi scheme in money fraud. 
Error: Tawni uses a curler to curl her hair because she wants it curly not straight. But, in Season 1, some episodes feature her with straight hair. Tawni's hair is straight but ponytailed in Grady With a Chance of Sonny. This could be a goof or an error. But, in the promo pics and promos of season 3 of So Random! her hair is straight.
Error: At the begining of the episode, when Chad was watching So Random, his hair was short, like the style he had after he started dating Sonny. But in the rest of the episode he had long hairstyle as usual.

This was because that part of the episode was filmed at a later time or the original scene was cut and refilmed for unknown reasons.
-Did anyone notice that Chad was watching So Random! at the start?