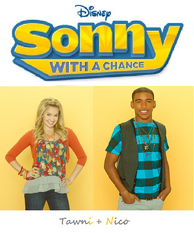 Tawnico
('
Tawn/i + N/ico'
)
is the pairing of
Tawni Hart
and
Nico Harris
.
The two having been working together on So Random! for years and have had glimpes of likings towards each other. There have not been any official pairings of the couple but fans want the pair to come together. This pairing rivals with Chawni.
Tawnico Moments
Season 1
Promise Prom-misses
Tawni thinks Nico (along with Grady) will think she looks hot
Tawni seems jealous that Nico (and Grady) think that Sonny looks good too.
Season 2
Walk a Mile in my Pants
Nico wants to look at Tawni's butt, while Grady doesn't.
Grady With a Chance of Sonny
Tawni tricks Nico into thinking he has got the fake side affects of Chad's "Safari bar"
Nico's impressed when Tawni says "Well Tawni's here. So lose the botch and take it up a notch."
Sonny With a Secret
Tawni insults Nico but Nico doesn't seem that hurt about it
Tawnico Fanon
Official Tawnico Food: Chad Dylan Cooper, Safari Bar. This is what Tawni and Nico were using to prank Chad.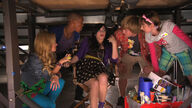 Official Tawnico Drink:
Fruit Juice. That's what Nico was drinking when him and Tawni were in the cafeteria in the episode, Grady with a Chance of Sonny.
Official Tawnico Colour: Gray. Both Tawni and Nico are wearing that colour in the Sonny With a Chance, Season 2 photoshoot.
Official Tawnico Number: 3. It's the date in July that Nico was born and Tawni has been acting since she was 3.
Official Tawnico Song: "Kiss Me" by Tiffany Thornton
Official Tawnico Day: 23rd May. It's the air date of the episode where Tawni and Nico first do something together
Ad blocker interference detected!
Wikia is a free-to-use site that makes money from advertising. We have a modified experience for viewers using ad blockers

Wikia is not accessible if you've made further modifications. Remove the custom ad blocker rule(s) and the page will load as expected.