Tammi Hart (Christina Moore) is Tawni Hart's mother and manager.
"Hart to Hart"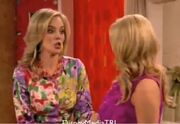 Tammi has blonde, curly hair and is obsessed with her looks. Her personality traits and features are like her daughter's. In the episode "Hart to Hart," Sonny says, "You look like Tawni and and you're treating me like the maid, so you must be Tawni's mom, Tammi!". In the same episode, Tawni and Tammi fall out because Sonny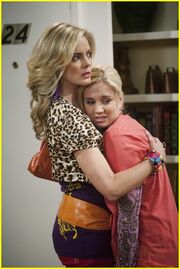 convinces Tawni to fire her manager, not knowing that Tawni's mom is her manager. Upset after firing her mom, Tawni comes to stay with Sonny and her mother for four days. The two eventually make up when Tammi and Tawni do a "work it out" dance in which Tammi admits that she controls Tawni because she is scared of her growing up. In the end Tammi and Tawni go shopping to make themselves feel better, saying "shop it out!". Also Tammi seems to know Sonny's mom because she calls her on the phone when Tawni is crying on the couch.
Ad blocker interference detected!
Wikia is a free-to-use site that makes money from advertising. We have a modified experience for viewers using ad blockers

Wikia is not accessible if you've made further modifications. Remove the custom ad blocker rule(s) and the page will load as expected.