"Sonny in the Kitchen with Dinner" is the sixteenth episode of Sonny With a Chance. This episode aired on August 18, 2009. Robert Adamson guest stars as Hayden.
Plot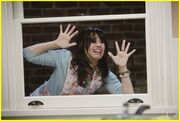 Sonny
tries to help
Tawni
have a good date with a new intern
Hayden
. Sonny begs to
Chad
for his Lakers tickets. Meanwhile,
Grady
and
Nico
make their own kind of sandwich called the "Granico" and try and get it to be sold in the cafeteria, because that's the only way to get a sandwich named after them. At the Lakers game, when Sonny and Hayden are shown on the kiss cam they are forced to kiss and Tawni sees them. Tawni gets mad and hides in her dressing room, locking the two doors. Chad gets jealous because he sees the kiss on Tween Weekly Magazine. Sonny makes another date for Tawni, Hayden tells Sonny that he likes girls who are to earth and his dream date is to hang out at home, unlike Tawni. But Sonny tells Hayden that Tawni is going to cook for him because he likes girls who can cook. But when Sonny learns that Tawni can't cook, and uses her kitchen as a closet, Sonny offers to have the date at her place and to cook the food. Later on, Howie (one of the main cafeteria staff members) tastes the "Granico", he rejects it, and Nico and Grady toss their sandwiches (all 100 of them) out in the sun. Later on at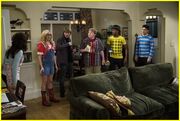 Sonny's house, her oven stops working, so Sonny calls Nico and Grady to bring food, but unfortunately after she hangs up, she drops her phone in the sink and it goes down the drain by mistake. Tawni tries to help her by turning on the light but she turned on the garbage disposal instead and it somehow calls Chad.
Nico and Grady show up at Sonny's apartment with their sandwiches, and Sonny ends up getting locked out. After hearing the phone call from Sonny, Chad thinks Sonny is in trouble and breaks down her door. When everyone shows up at Sonny's apartment, the night turns awkward. In the end it turns out the "Granico" sandwiches had been left out in the sun for 12 hours, and had gone bad. So everyone who had tried the sandwiches (Chad, Tawni, Hayden, Nico and Grady) end up throwing up, with Tawni throwing up over Sonny's newly bought "Blarmie, the blanket with arms".
Cast
Guest Starring
Absent
Trivia/Goofs
This is the first episode of Sonny With a Chance not to feature a So Random! sketch in any form.
This episode marks Demi Lovato's first on-screen kiss.
Robert Adamson starred with Demi Lovato in one of her Disney Channel Original Movies, Princess Protection Program.
Sonny's last name is spelled "Monroe" (rather than "Munroe") on Chad's cellphone. It is generally assumed that this was a goof, but absolute proof of one spelling over the other has yet to be found.
The title of this episode is a play on the quote "Someone's in the kitchen with Dinah" from the old folk song "I've Been Workin' on the Railroad".
Chad is a fan of the Lakers and has season tickets to go see them.
In the scene where Sonny goes to ask Chad for the Lakers tickets, when Chad originally holds up the tickets to show Sonny, he is holding four tickets. Then when Chad says his line, "That's worth one," he is only holding three tickets.
It is revealed in this episode that Sonny does not want to call Chad the greatest actor of his generation.
This was the second time we see Chad really jealous after Sonny with a chance of dating when James asks her out, and hinting feelings for Sonny, which was proven true in Falling for the Falls
Ad blocker interference detected!
Wikia is a free-to-use site that makes money from advertising. We have a modified experience for viewers using ad blockers

Wikia is not accessible if you've made further modifications. Remove the custom ad blocker rule(s) and the page will load as expected.