"Sonny With A Grant" also known as "Grant with a Job?" is the twenty-second episode of the second season of Sonny With a Chance. This episode aired December 5, 2010.
Plot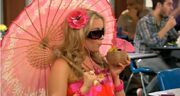 The
So Random!
cast are all going off on their week off vacation.
Sonny
is going to Camp Comedy to be a counselor while
Tawni
is going to a cruise.
Chad
comes in and and tells Sonny that he is infuriated at all the leisure and nice things
Zac Efron
gets. Chad decides to list some demands to Mr. Condor.
Nico
and
Zora
decide to stay home for the entire week. Tawni's cruise gets canceled because of a hurricane so she decides to spend her vacation on set.
Grady
's brother
Grant Mitchell
visits Grady again and decides to start a career in Hollywood. Grady tells Grant that he needs to start at the bottom to get to the top and gives Grant a job as a busboy in the cafeteria. Grady decides to have fun by grabbing tons of food and messing them up on a table so Grant would have to clean it. But Grant instead stands up on a table and starts dancing.
Mr. Condor
walks in and sees this and Chad gives Mr. Condor a list of demands. Mr. Condor tells Grady to organize Chad's demands and clean up the table because he doesn't want Grant to slip. Grady becomes frustrated that everything goes Grant's way.
At Camp Comedy Sonny tries to call Chad but because the reception is bad their words seem to come out differently. Chad thought that Sonny told him to be more greedy but actually Sonny told him not to. Mr. Condor agrees to everything on Chad's lists and was about to shake Chad's hand in agreement but Chad starts to demand more things like a pony and puppy. Mr. Condor becomes mad at Chad for being greedy and fires Chad. Chad tries to outrun security but eventually gets caught and kicked off. Then Grant takes the job as the new Mackenzie and Grady and Chad are shocked to hear this.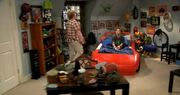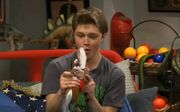 Tawni's skin turns orange after putting on too much spray tan. Grady goes over to Chad's house and sees Chad's room is a kiddie room for a ten year old boy. Grady tries to get Chad back on
MacKenzie Falls
but Chad becomes discouraged. Then Grady turns on the TV to
MacKenzie Falls
and Chad sees how Grant is making
MacKenzie Falls
stink. Chad decides to get his job back.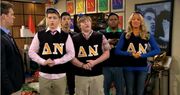 Grady walks in telling Grant that Chad is now the president of Delta Nu (he's not really) and Tawni has joined and now they are gentlemen. Then they sing a song about how they are responsible now and Grant leaves furious and Mr. Condor comes in and Chad gets his job back.
At the end Sonny does a commercial for Camp Comedy saying they will teach them classic comedy things like double take, spit take, double spit take, stepping on a rake, and slipping on a banana peel.
Starring
Guest Starring
Co-starring
Absent
Trivia