"Sonny with a Choice" is the penultimate episode of Sonny With a Chance.
Plot summary
Nico and Grady are watching a smackdown game when Sonny changes it to Channel 2. The TV shows that So Random! and MacKenzie Falls are both nominated for "Best Tween Show" in the Tween Choice Awards. Sonny is excited that the show is being nominated, yet the rest of the cast are disappointed. They know they will just lose to Mackenzie Falls. Zora says she will prank the other show. Sonny is disappointed in her cast, so she leaves, saying pranks are unacceptable. In the commissary, Chad is rehearsing the speech he will say when his show wins for the sixth time in a row. Sonny enters the cafeteria, offering Mackenzie Falls a muffin basket. Everyone except Chad hides under the table. Chad trusts Sonny, so he says for eveyone in his cast to grab a muffin. Sonny and Chad talk how wonderful the day of the awards will be. When Sonny asks Chad to go "the high road", Chad offers that when the award is given, they won't rub it in So Random!'s faces. Sonny, disappointed, takes back the muffins and scares the MacKenzie Falls cast by leaving one muffin. Thinking that it is explosive, they hide.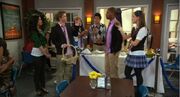 Meanwhile, Nico and Grady are called and asked to present the award for "Best Sound Effect." Grady says his speech will be him making an impression of a small bird laying a large egg. Nico says that's no good, then makes a speech of himself. They argue on what to say at the awards.
On the day of the awards, down the red carpet, Ryan Loughlin is the host for the award show, interviews Chad and Sonny and calling them the Hottest Couple on the carpet. This is Sonny's first Red Carpet event. Chad says that there are no losers, Sonny smiles and walks away, Chad quietly says "We're gonna win." Later everyone is in the awards show building. Nico and Grady present their speech. It was originally Nico's speech, but the audience does not laugh. Nico does Grady's speech, taking credit for it, cracking the audience up.
It is now turn for the "Best Tween Show" awarding. Just before Ryan announces the winners, Sonny gets allexcited about being nervous, and Chad calls it cute. They both wish each othergood luck, then kiss. Ryan starts, "The choicy goes to...", so the
Mackenzie Falls
cast stand up, ready to receive the award. Ryan thinks
MacKenzie Falls
won and says "Mac-" but fixes it and finished it with "-aroni and cheese, it's
So Random!
". Sonny and her co-stars are on the stage, Sonny gets too excited and yells "In your face,
MacKenzie Falls
!" Chad gets confused. After the show ended Chad was a little in shock so acted as if the show hadn't started yet.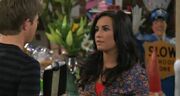 Moving on to the next day, the Randoms get all the glorious things such as gifts and cards. They also get lobster because Zora and
Tawni are
at the winner's table that used to be property of
MacKenzie Falls
, eating lobster.
Mackenzie Falls
now eat at the loser's table, eating cafeteria food. Sonny invites Chad to sit with them at the winner's table but he disagrees and says that that's the winner's table. Then some men come and put a new
So Random!
poster over the
MacKenzie Falls
poster. Mr. Condor phones Sonny and congratulates her. Sonny puts Chad on the phone and Mr. Condor hangs up, Chad thought that he was in a tunnel. And the quickly says, "I'm in a tunnel, and it's dark in here Sonny!" Chad gets paranoid and says he's going to fix the awkwardness between both he and Sonny created because of the award.
At the Prop House, Nico apologizes for taking credit of Grady's joke. Everyone's in high happy land, till Chad comes back saying he's fixed everything when he really hadn't. Chad ordered a recount and turns out MacKenzie Falls won. Chad thought he was helping, because he knew things were weird and that Sonny was used to losing and he was used to winning. He said, "I did this for us." Sonny then gets upset and sadly grabs the choice award, and says, "The only "us" there is is between you and this award. I hope you two will be happy together." Chad says, "Are you breaking up with me? I thought I was helping." Sonny then replies "That's just it... there are no second chances this time, you won the recount but you lost me". As Chad leaves, he seems upset over the event that has just occurred. When he leaves, Sonny cries a bit. Then she said aloud that she knows the So Random! cast is in the room, so the cast comes out of their hiding spots above. The gang comforts her and say that they'll get Chad back by pranking him. They all say at that moment in time, that they care about Sonny.
During the end credits, one year later, Grady is presenting the "Best Impression of him Doing an Impression of a Small Bird Laying a Big Egg Award," while Nico, Tawni, Sonny, and Zora are nominees. Surprisingly, Chad wins, and Grady wants to order a recount.
Cast
Trivia and Goofs
Those who were present at the filming referred to this episode as "Sonny With a Choice," whereas Eric Dean Seaton, the director, calls it "Tween Choice Awards" on his website; the former was eventually confirmed as the official title.
Tween Choice has a connection with Tween Weekly. "Tween Choice Awards" is the second awards show, the first being the "Oh No You Didn'ts."
"Tween Choice Awards" parodies the real-world award show "Teen Choice Awards".
This is the second time Sonny and Chad kiss, but it's only a peck before they are nominated.
This is another rare time when Tawni admits to "caring" about Sonny.
It is implied that Zora thinks lobster is good.
The "Tween Choice Award" trophy has noticeably changed since "West Coast Story." The trophy in "West Coast Story" resembles an Emmy, but, in this episode, the trophy resembles a large remote.
Although Chad claims to not know one of the girls sitting with his cast, she has appeared as a MacKenzie Falls cast memeber in the episodes "Sonny at the Falls," "Fast Friends," and "Sonny With a Grant."
Chad and Sonny broke up in this episode.
This is Zora's last appearance in the show, as she does not appear in the next episode.
Ryan Loughlin is incorrect when he states that this is Sonny's first red carpet event. Sonny first attends a red carpet event in "Poll'd Apart" when she and the cast of So Random! attend the "Oh No You Didn'ts."
Ryan returns in the episode and is the second time for the series to appear and the second time in the season.
References
Ad blocker interference detected!
Wikia is a free-to-use site that makes money from advertising. We have a modified experience for viewers using ad blockers

Wikia is not accessible if you've made further modifications. Remove the custom ad blocker rule(s) and the page will load as expected.