"Sonny With a 100 Percent Chance of Meddling" (also known as "Zora Blossoms") is a season 2 episode of Sonny With a Chance. And it aired on October 14, 2010.
Plot
The episode begins with a sketch. A family where the mother (Tawni), father (Nico), and daughter (Zora) watch an advertisement for terrible campfire songs from the singers Jenny (Sonny) and Dan Dan (Grady). When Jenny and Dan Dan telll,
"Order now,
or ELSE", the mother and father happily decide, "
We will!"
and reach for the phone, but the daughter slaps them away from the phone yelling, "
No you won't!"
Sonny and Tawni walk into the commissary seeing Zora flirting , and stealing Tawni's "Coco Mocho Coco" lipstick for a boy named Wesley on Mack Falls who is playing "Young Mackenzie". While Sonny visits Chad they refer to a term called "Sonny it up" which means meddling into things when meddling just won't do. Sonny doesn't think this is a real phrase until she goes to Mack Falls set. The phrase is used in Mackenzie Falls by Mackenzie saying " I know you were just trying to help by bringing me and my half father together. But intstead you just Sonny'd it up." After Chad tries to reel Sonny in (like he did in Sonny With A Secret), Sonny notices Wesley, the boy Zora likes, is on MacKenzie Falls. Sonny sets them up by saying to Wesley " Why don't you come to pizza night. I know you'd make a certain young girl very happy." At first, Zora wasn't happy about it after all the persuasion and happiness of the So Random! cast. Afterwards Zora said " I guess I'm a little excited." Sonny says to her "Now you go get pretty!" At pizza night, Zora and Wesley are having fun until Zora had to go to the bathroom to give Tawni some of Tawni's Coco Moco Coco lipstick. Sonny gives Wesley a thumbs up and Wesley smiles back.Sonny says,"Aren't you glad you came?"Wesley scoots next to Sonny and says "Yeah, it looks like I'm making a certain young lady very happy."Sonny replies,"You sure are!"Wesley then says,"I think she'll be even happier when I do this,"and wraps his arm around Sonny's shoulders.Sonny says,"Oh yes she will!"Wesley then scoots in even closer to Sonny.She says,"Okay,save some for Zora!"and takes Wesley's arm off her shoulders.Wesley says,"We're to old to play these silly games."Sonny says,"Huh?" Wesley replies,"I think we both know why you invited me here,"and wrps his arm around her shoulders again. She takes his arm off her shoulders AGAIN and says,"Nooo, I don't think we do."Sonny scoots closer to the edge of the booth.Wesley says, "Come on,let's get outta here and FYI, I'm old enough to sit in the front seat now!" She says,"But what about your date with Zora?" He answers back, "Zora's nice for a girl,but you're a woman, and I'm a man, baby!" Sonny says,"You're a baby, man!" Then Wesley makes a face. Zora comes back and has no clue what happened between the two.
Later a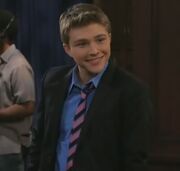 t the prop house, Zora comes back and says,"Hey Sonny, how's your boyfriend? Mine's great!"
Later, Sonny gets a gift basket, thinking it is from Wesley. The gift basket says: "I like my woman like I like my cheese. Finely aged. And from Wisconsin." Zora finds out the gift basket was for Sonny. Sonny goes ot the Mackenzie Falls set and Chad sneaks up behind her and says "Guess Who!" and Sonny gets scared. Sonny find's out the gift basket Wesley sent Sonny was really from Chad. Wesley gets taken away by security for flirting with Sonny.
A rap song entitled "Sonny It Up" begins to play.
Sonny hides in the photo booth from Zora, but when Tawni tells her that Zora went home, she stepped out. She asked Chad about the sandbag and he said he fired the guy who was responsible for the sandag because he can't drop the sandbag.
Then, Sonny goes to Zora's house to apologize and finds out Zora has a girly room and has a tea party with her. For revenge Zora makes Sonny's tea extra hot for revenge. The "Sonny It Up" rap then comes on.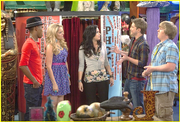 Meanwhile, Nico and Grady find the Cell Phone Philm Phestival to open. They decide to make a "horror" movie called Sharkicorn about a unicorn/shark hybrid where Nico uses a hand puppet of a unicorn/shark and Grady wears a wig pretending to be a girl attacked by the Sharkacorn. They later see Dakota complaining at the police guard Reggie that she cannot put her scooter in the Handicapped Area, and has the police guard to be fired. She yells, "Your career is dead! DEAD!", and for some reason, she also yells "DEAD!!" at Nico and Grady.
Nico and Grady hire Dakota to be in their cell phone movie. However, she does nothing other than yell angrily and complain, such as complaining that she wants her ice cream on a cone, not a cup, stomps Nico's foot and yells angrily at him when Nico requests that Dakota make the scene for him to feel the terror, and then just keeps yelling and threatening angrily.
When Nico and Grady went to check out their movie, all they find is footage of Dakota. This gives Nico and Grady an idea. They make the cell phone movie, "Sharkota", about a girl named Sharkota (Dakota) who is always yelling and threatening at them angrily, and they scream in horror. It is unknown what the results were for the Cell Phone Philm Phestival they made for the convention.
Cast
Guest Starring
Trivia
The song Sonny It Up is used in this episode
Though Zora always says Sonny dating Chad is a betrayal, Wesley is also from Mackenzie Falls.
Chad has his newer hairstyle in his Mackenzie Falls Poster in the cafeteria.
Sonny didn't invite Chad to go out for pizza even though he was right there when she invited Wesley.
Everyone calls it "Sonny it up" when the word meddling just isn't strong enough.
Chad refers to Sonny as his girlfriend when Wesley flirts with Sonny and then calls security on Wesley.
Wesley is a mini version of Chad.
Wesley's only appearance in the series.
Wesley knows the good, good, fine, fine statement and he knows the peace out suckas catchphrase.
Zora is secretly a girly girl with a pink bedroom to prove it.
Wesley's line, "Big Mac" is a parody of the McDonalds hamburger's name.
The last numbers that Tawni put on the Lip Lock were 8-2-5-6, but when Zora pressed in the last numbers 3-4-5-8 and still the Lip Lock opened. But then again, Zora might have the "ability" to open the lock without the correct combination code.
Zora hosts tea parties for her stuffed animals and her bed is full of stuffed animals.
The MacKenzie Falls security guard, Reggie, first seen in "Sonny at the Falls," was fired by Dakota for refusing to let her park her scooter in the Handicapped area.
Tawni said to Sonny, "Whenever you sprinkle your rainbows and cheddar dust (or meddles), it ends horribly." Meaning, Sonny has meddled before and it didn't work well (when Sonny set Tawni up with Hayden.)
During the Camp Songs sketch, the camp background in the same used in the episode "The Legend of Candy Face."*The sketch in this episode may have been filmed for the promos because Sonny's skin color is whiter than now. Her skin is "tanish."