"Sonny With a Song" is the fourth episode of season two of Sonny With a Chance. This episode originally aired April 11, 2010.
Plot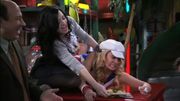 Sonny's favorite musician, Trey Brothers, is visiting and she would like to spend time with him to show him some songs she wrote. However, Tawni likes Trey and thinks Sonny is trying to steal him from her. So she says that Sonny's song is her song. But then things get more complicated when Trey steals Tawni's song. In other words, Trey steals Sonny's song. He also steals Nico and Grady's Magician Costumes, and Chad's Bangs and Fangs. Meanwhile, Nico and Grady try to find out how to work a magic box. When Sonny traps Trey in the magic box, she accidentally activates the box, transporting Trey elsewhere. With Trey missing, Sonny goes on the show and sings in his place. Viewers and castmates alike are shocked by her talent and confidence. The episode ends with Trey informing Chad that he's stolen Chad's middle and last name and Chad's limousine.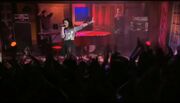 Songs
Me, Myself, and Time- Sonny sings this at the end of the episode. She wrote it herself in real life (as Demi Lovato).
Cast
Guest starring
Guy Burnet as Trey Brothers
Absent
Trivia/Goofs
There are rumors that Joe Jonas appears as one of the audience.

PROMO Sonny With a Song - Season 2 - Sunday, April 11 8 7c

Goof: Trey was wearing Grady's whole outfit (hat and jacket) not Nico's hat.
Trey's guitar strap is the same one Chad has in Dakota's Revenge.
It was never revealed where Trey ended up after Sonny made him disappear.
The only appearance of Trey Brothers in the series.