"Sonny Get Your Goat" is the second episode of Sonny With a Chance Season 2. It aired on March 21, 2010.
Plot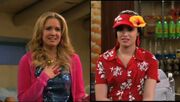 Sonny and Tawni are invited to travel to Glendovia because the Check It Out Girls are very famous there. Since Sonny and Tawni are mad at each other, only one of them goes away to the foreign said to be European country, Tawni because she pushed Sonny out of the limo. When Tawni, arrives at Glendovia, she realizes that is a rural place, not like the fabulous high-end place she was expecting. Sonny later decides to go to Glendovia to save her friendship with Tawni as she thinks she is being replaced, and Tawni thinks the, same thing. The two make up once they realize how much they missed being Check-It-Out girls together.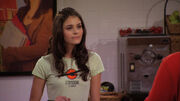 Meanwhile,
Dinka
, an exchange student from Glendovia impresses the girl
Nico
and
Grady
likes,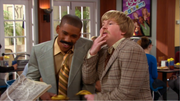 and they both think it is because of his mustache. They then wear a mustache trying to impress her, but they get themselves stuck in their own mustaches because of the glue. The exchange student tells Nico and Grady that he is not a comedian but an actual cashier in California for a Cashier Exchange Program and that Tawni, and Sonny have been sent to Glendovia as part of the Cashier Exchange Program as well, causing the two to burst into a fit of laughter. When Sonny and Tawni get to the store they will be working at they realise to their horror that they will be 'actual' check it out girls, they make up and become friends again before running away. Meanwhile,
Chad
arrives in Glendovia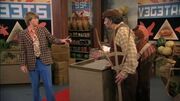 at is put to work at the register right away. At the end, Chad is promoting the shop that Sonny and Tawni were sent to work at.
Cast
Guest Starring
Sam Lerner as Dinka
Mark Cohen as Kafka
Co-Starring
Nina Fehren as Cashier Girl

Sonny with a Chance Sonny Get Your Goat

Matthew Willig as Lee Moe
Absent
Trivia/Goofs
The title is a parody on "Annie Get Your Gun."
"The Sonny, Dinka, Dinka, Sonny" song is a parody of the Jewish Passover song "Dayenu".
This is the second of two episodes to feature a "Check It Out Girls" theme (the first was "Cheater Girls").
The "Check it Out Girls" theme song is different from the season one tune.
Glendovia's "99 Zuzim Store" is similar to an American "99 Cent Store".
It is never revealed why Sonny and Tawni were fighting during this episode.
Although Chad appears in the episode, he doesn't interact with the So Random cast. (Tawni and Sonny see him on the commercial, but they don't meet him in person.)
Before its release, Some fans thought that the episode will involve around Sonny having a goat.
It is obvious that there is nothing in the bags of Sonny and Tawni. Also Marshall was able to carry them very easily.
Glendovia is a parody of Siberia.
Both Sonny and Tawni exchanged Check It Out Partners and Sonny stated, "Well, it is an exchange program so how would you like to be my new Check It Out Guy?"