Shaquille O'Neal
Born
March 6, 1972 (38 yrs. old)
Occupation(s)
Basketball player
Actor
Shaquille O'Neal is a professional basketball player and actor.
Background
O'Neal credits the Boys and Girls Club of America in his hometown of Newark, New Jersey, with giving him a safe place to play and keeping him off the streets. "It gave me something to do," he said. "I'd just go there to shoot. I didn't even play on a team." O'Neal first gained national attention while playing at Linton Middle School. He led his Robert G. Cole High School team, San Antonio, Texas, to a 68–1 record during his two years there and helped the team win the state title during his senior year. His 791 rebounds during the 1989 season remain a state record for a player in any classification.
Personal Life
He was born in Newark, New Jersey. He remains estranged from his biological father, Joseph Toney of Newark. Toney, who was once an All-State guard in high school who was offered a basketball scholarship to play at Seton Hall, struggled with drug addiction and was, by 1973, imprisoned for drug possession when O'Neal was an infant. Upon his release, Toney did not resume a place in O'Neal's life and instead, agreed to relinquish his parental visitation rights to O'Neal's stepfather, Phillip A. Harrison, a career Army Reserve sergeant. Ironically, Harrison had faced Toney as a player on his high school varsity basketball team.
Sonny With a Chance
O'Neal is a special guest star in Sonny With a Chance episode "A So Random! Halloween Special". He appears in the Check It Out Girls Halloween sketch as "Shaqula".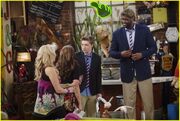 Ad blocker interference detected!
Wikia is a free-to-use site that makes money from advertising. We have a modified experience for viewers using ad blockers

Wikia is not accessible if you've made further modifications. Remove the custom ad blocker rule(s) and the page will load as expected.