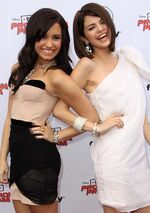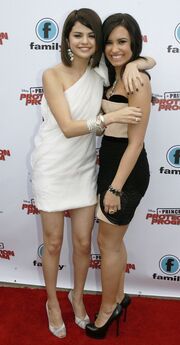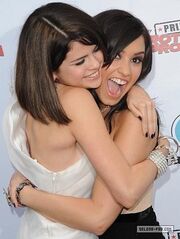 Selemi is a combination of Selena Gomez and Demi Lovato. The BFF pairing in real life. Selena and Demi first met when they were 7 years old filming Barney and Friends. They have seemed to rekindle their friendship in early 2011 when the girls went to lunch together. Selena and Demi are still friends, but it isn't 100% back on again. They are friends and Selena and Demi still see each other and still help each other with whatever issues they may be having in their lives. When Demi was in rehab, Selena supported her in the process regardless. It seems as if Selena and Demi enjoy spending time with each other. Rumor has it, Demi and Selena have been hanging out a lot lately and one of the girls' BFF's, Miley Cyrus misses hanging out with Demi. Many people are wondering, is Selena to blame? People aren't sure. But, if Selena and Demi are real good friends, they'll let Ms. Miley Cyrus hang out with them as well. If they aren't real good friends with Miley, they probably won't let Miley hang out with them. Regardless, Miley, Selena, and Demi will be good friends. They do most campaigning together, like promoting Disney's Friends For Change in 2009. Selena supported Demi when she was in treatment and called her crying.
In early 2010, it seemed like the days of Demi and Selena telling secrets, having sleepovers, and swapping clothes were over for good. After a BFF breakup the year before, the girls stopped talking and avoided each other completely for months. Then, last Halloween weeked, Selena recieved the shocking news: Demi had checked into a treatment center for "emotional and physical issues". Without even thinking twice, Selena picked up the phone and called to check on Demi- and it was as if those months of silence had never happened. "She called me crying," Demi recalls. "Selena and I reconnected the fiirst week."
While Demi worked through her issues at the center, she leaned on Selena more than ever. But when Demi finished her treatment in January, she found someone else had come into Selena's life: her now boyfriend, Justin Bieber. Seemingly overnight, Selena had gone from calling Justin her "little brother" to spending every spare moment with him. The couple went on tropical vacations together, visited each other's hometowns, and Selena even admitted that Justin had "passed her mom's (approvel) test." Selena wasn't the only preoccupied one- Demi was spending long days and nights in the recording studio, working on her album "Unbroken", out now. "So glad I got to stay in Miami one more night to work," Demi tweeted in July. "Selena, wish I could have made it to your show!"
But, despite boys and busy schedules, Selena and Demi are closer than ever. "We're not the kind of friends who have to talk every day to keep our friendship alive," Demi explains. "We could go for a week or two, and still know we're each other's best friends." Because of all they've been through, Demi and Selena know their bond can withstand any challenge that comes their way. "There's an amount of love that can never be torn apart, no matter what the situation," Selena says. And Demi agrees, "We're not going to let anything ruin our friendship."
About the pose, "The pose we practiced our whole childhoods together... such dorks. Love it!" Demi tweeted after the 2011 Teen Choice Awards. Selena and Demi are BFF's, although they don't talk everyday. Demi follows Selena on Twitter, and Selena follows Demi. Those girls have it going for them! Love that! Demi, Selena, You ROCK!

In July 2012, Demi revealed that "Selena and I aren't as close as we used to be." At the 2012 Teen Choice Awards, held July 22, 2012, on Selena's 20th birthday, the birthday girl didn't even talk to, or pose with, her former BFF on the pink carpet. After the Awards, Selena and Justin Bieber left the party to attend a birthday barty Bieber threw for his Disney Darling. Demi wasn't among the 30 guests that attended the party. Selena's BFF now is country rocker Taylor Swift. Swift called Selena as her "little sister".
Selena and Demi aren't seen hanging out together as much as they used to. In 2010, Demi tweeted, "Fun night out with @selenagomez." Although Demi has been all over the country for auditions for the "X Factor", where she is now a judge alongside Britney Spears, she has made time for friends. Selena, who has been all over the world with Justin Bieber, who has been promoting his new album, "Believe" and his upcoming "Believe" tour, has made time for friends as well. Although the girls aren't as close as they were a few years ago, they will probably make time for each other. She does have alot on her plate. From filiming new movies, spending time with boyfriend Justin Bieber, making new music, and lots of other stuff, Selena must always remember that keeping friendships is the most important thing. Selena and Justin Bieber may have gone through a rough patch, but now they're closer than ever. Demi and Selena may just need to patch up a good frienship that has probably been lost, or in the process of being lost. Selena may be dating Justin Bieber, and may be BFF's with Taylor Swift, but, Selena should always keep her old friends before moving on with new ones. Same with Demi. She was reportedly dating One Direction's Niall Horan, which she's crushing on, in June, but, she has alot on her plate. From the "X Factor", to writing new music for her next album, to much other stuff, she will make time for her friends.
Ad blocker interference detected!
Wikia is a free-to-use site that makes money from advertising. We have a modified experience for viewers using ad blockers

Wikia is not accessible if you've made further modifications. Remove the custom ad blocker rule(s) and the page will load as expected.