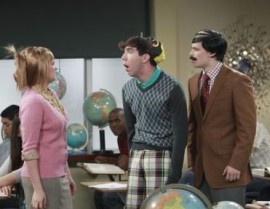 Rufus
Gender
Male
Profession
Secret Agent, Manager of a Movie Theater, Actor
Family & Friends
Parents
father - Unknown

mother - Unknown

Friends
Mr. Bananas

Buster B. Dog

Mr. Ravioli

Pet(s)
monkey - Mr. Bananas

dog - Buster B. Dog

Production Information
Portrayed by
Matthew Scott Montgomery
Rufus (Matthew Scott Montgomery) is the annoying excuse-maker who appears in the sketch, "Oh, You're Not Gonna Believe This" (sometimes titled "Rufus: Kid with Excuses") from the Cody Simpson episode.
In the sketch, Rufus makes countless excuses, such as, his monkey fed his dog his homework and that his evil clone from the future stole a little girl's bike. All of which are doubted by his teacher, Johanne, Principal Zaniya, classmate, and the sad little girl. Though, to add to their confusion, the excuses all turn out to be true.
As revealed in the sketch, Rufus is really a secret government spy. He was assigned a mission in the jungle, but missed his flight because his dog ate his plane ticket. He also claims he has a medical condition where his butt and the rest of him can't be in the same room at the same time despite his butt and the rest of him being in the same room then.
The character has given little insight on his family. But he's said that his parents are on tour with Justin Beiber for 6 months and his dog, Buster, and his anthropomorphic monkey, Mr. Bananas, are currently in Vegas.
Rufus is also appeared in a sequel sketch called "Rufus: At the Movies". In the sketch, he (and his invisible friend, Mr. Ravioli) meet his teacher and principal at the movie theatre. He leaves after a short conversation so he can get to his new job... which is at the movie theatre. The couple (Johanne and Zaniya) ask for popcorn, but Rufus replies, saying that the remaining popcorn is for the gerbils who run in wheels to power the projectors that keep the movies going.
A few seconds later, the two ask for the manager. The manager ends up being Rufus due to the original manager being attacked by angry gerbils. The two then decide to leave. Until Rufus tells them they can't go because they're in a movie titled "Rufus: The Movie... in 3D".
In the new sketch, When Rufus will do the sketch with Mr. McNamara in Rufus: Kid with Excuses 2 feat. Mr. McNamara.
Ad blocker interference detected!
Wikia is a free-to-use site that makes money from advertising. We have a modified experience for viewers using ad blockers

Wikia is not accessible if you've made further modifications. Remove the custom ad blocker rule(s) and the page will load as expected.