"Random Acts of Disrespect" is a season two episode of Sonny With a Chance. It aired on May 16, 2010.
Plot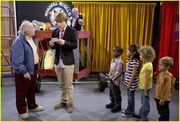 When Grace, an elderly woman, wins the "Be So Random for a Day" contest, the
So Random!
cast ends up planning an "old geezer" sketch that not only offends Grace and her entire retirement home, but all elderly people. After an on-air apology makes things worse, Grace and her friends turn the tables and play a practical joke on the cast. Meanwhile, Chad attempts to help a group of kids with their fear of clowns and ends up looking like one himself.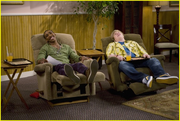 Sketches
Cast
Guest Starring
Absent
Trivia
Ad blocker interference detected!
Wikia is a free-to-use site that makes money from advertising. We have a modified experience for viewers using ad blockers

Wikia is not accessible if you've made further modifications. Remove the custom ad blocker rule(s) and the page will load as expected.