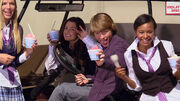 This article is about the character in MacKenzie Falls. For the character who interacts with Sonny and the others, see
Portlyn Maddison
.
Portlyn is one of Mackenzie's former love interests in the hit tween drama MacKenzie Falls. The real name of the actress who plays her character is unknown.
Relationship with Mackenzie
Portlyn used to be one of Mackenzie's main love interests until she was replaced by Chloe. Once, Mackenzie took her to the polo championship instead of Chloe.
Ad blocker interference detected!
Wikia is a free-to-use site that makes money from advertising. We have a modified experience for viewers using ad blockers

Wikia is not accessible if you've made further modifications. Remove the custom ad blocker rule(s) and the page will load as expected.