Mel Winters

Mel in Sonny's House
Gender
Female
Profession
Waitress at The Patio
Family & Friends
Significant other
Grady Mitchell (crush)
Friends
Grady Mitchell

Sonny Munroe (They become friends in the end of the episode)

Frenemies
Sonny Munroe (Until Sonny helps Mel to decorate her house)
Production Information
First appearance
"New Girl"
Portrayed by
Skyler Day
Melanie, Melrose, or Melissa "Mel" Winters
About Mel Winters
Mel is clearly shown as a person who's not afraid that much to speak her own mind. Mel lives in the same building as Sonny upstairs, above her. At first, when Mel hears Sonny writing her song, she finds Sonny a little loud. Mel works as a waitress at The Patio, where she makes a deal with Sonny over $30 to see if Sonny could get a standing ovation. Mel appears to be a person who can "read" people, like Sonny and Chad can in previous old episodes. Mel could read Grady quite well, which means she's clearly good at it, just not under pressure. At the beginning, Sonny & Mel are kind of frenemies, but near the end when she talks to Sonny heart to heart about Sonny's unrealised feelings for Chad isn't yet out of her system which was why sonny couldn't play infront of him.
Relationships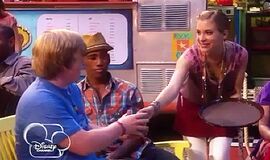 Clearly Mel and Grady like eachother because of the constant flirting the both play at. At the end of New Girl, Mel speaks to him and walks away to get his drink, and says "He's such a dork, I LOVE HIM!"
Grady's reaction to a girl possibly liking him is his accent turns Scottish and names himself Seamus McGregor.
Trivia
At first, there were rumors going around that Mel's name was Nora, but it turned out to be Mel.
Although never actually said in the episode, Mel is credited with the last name "Winters."
In the begining Mel is seen to not like Sonny because she is a noisy neighbor but when they talk about her feelings for Chad they start to become friends.
Sonny and Mel have somewhat a love-hate relationship.
Mel knows people, just like Sonny and Chad claim to.
It is possible Mel and

Grady start dating, but not certain, as Mel only appears in the last episode of Sonny With a Chance.
Ad blocker interference detected!
Wikia is a free-to-use site that makes money from advertising. We have a modified experience for viewers using ad blockers

Wikia is not accessible if you've made further modifications. Remove the custom ad blocker rule(s) and the page will load as expected.