"Marshall with a Chance" is an episode of Sonny With a Chance.
Plot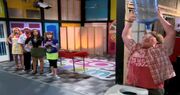 Grady
,
Nico
, and
Sonny
are showing
Marshall
a sketch called "Where's the Wasabi?", a Japanese game show where they try to find which sushi has the wasabi. Sonny tries the salmon but it just tastes fishy and Grady tries the octopus but it has real wasabi and he needs water. Marshall thought the sketch was lame, so he tells them to think of a better one by the end of the day.
The next scene was of the So Random! cast in the prop house late at night, trying to come up with a sketch to send Marshall over email. After Sonny suggests a sketch about a lizard traveling to the North Pole, they all start making fun of Marshall for being a mama's boy, and just being Marshall in general. Sonny ends up accidentally sending the recording of them making fun of Marshall to him and they all freak out.
The next day they are in Marshall's office and Marshall tells the he is cranky because he wants to do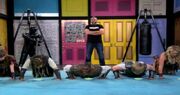 something bigger with his life. So Sonny encourages Marshall to fulfull his dream of putting on a one man show entitled "My Life with Ma." Marshall gets all excited and takes two weeks off to put on his big show.
While the So Random! cast enjoys relaxing with Marshall gone, in walks a guy named "Stanley," as known as "Savage Stan," who tells them that he will be taking over while Marshall is away. Grady says with a name like Stanley he must be a pushover, but it turns out he is the ex-exacutive producer of Tween Gladiators. He makes them dress as gladiators and do random exercises and battles and stuff like that. Also, Grady keeps getting wassabi in his eye.
Sonny calls Marshall to see when he'll be back and he replies he has quit So Random! to go into theater. They go to the theater to get him back, where he does his show for them (which is terrible). Tawni tells him it is perfect and he goes to tell his ma. After he leaves Sonny tells them it was awful and she doesn't want him to embarrass himself with that show, Tawni replies that she knows and if he blows the show he'll come back to them. Sonny tries to go tell him, but Nico picks her up and carries her out, leaving a wassabi-blind Grady alone in the theater.
The next day Marshall is cleaning out his offce. Sonny comes in and tells him what she really thought of his show, saying it needs a "big something" Marshall thinks she is asking to be in the show and gives her the role of "Ma". Sonny is not happy about it but does it anyway.
They do the show and when it is over Nico starts booing and the entire crowd jumps in. Sonny, pretending to be Ma, tells them they should be ashamed and not boo him for his failure, but applauding for his courage. No one listens and Marshall decides to give up his dream. Sonny tells him he won't because it is him that causes the laughter for So Random! and Marshall comes back saying that his preforming days are over, making everyone clap.
The end is a sketch for a wasabi commercial.
Cast
Guest Starring
Trivia/Notes
Demi has redish blonde highlights in this episode.
This episode was filmed June 25, 2010.
Revealed that this episode is in Season 2 after Wikipedia stated that the third season will start filming on January 2011.
This is the first and only episode of Season 2 where Chad does not appear in.
This is also the first episode Chad hasn't been seen since "Cheater Girls".
Final appearance of Marshall Pike.
Stanley believes Zora is a guy. Then she tells him she's a 12 year-old-girl.
This is the third episode that Chad was absent for in the whole series.
When this episode was filmed , Chad was in it. But, his scenes were cut for an unknown reason. Zora was supposed to be having a muffin and Chad tries to steal it. That's why Zora barely appeared.
Running Gag: Grady having predicaments with wasabi.
Grady wears eye glasses most of the time for the episode.
This is the first (and only) episode to feature the name "Marshall" in the title.
This is the last episode where Sonny and Chad are still a couple before the huge the break up"Sonny With A Choice".
References
Ad blocker interference detected!
Wikia is a free-to-use site that makes money from advertising. We have a modified experience for viewers using ad blockers

Wikia is not accessible if you've made further modifications. Remove the custom ad blocker rule(s) and the page will load as expected.