Mady



Shipped Characters:
Mady
is the pairing of
Grady Mitchell
and
Mel Winters
. The two first meet in
New Girl
. They both have a crush on each other.
Mel has an obvious crush on Grady. Towards the end of the episode "New Girl," after he talks to her using his Scottish alter-ego, she states, "He's such a dork. I love him." Grady has an apparent crush on Mel as well. Grady tried using a "mom-based" pickup line on Mel, but Mel didn't seem to impressed. He becomes very nervous around her and her presence even causes his largest nervous tick, his al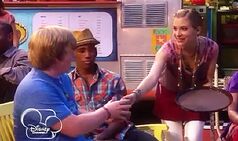 ter-ego, Seamus McGregor, to come into being.
Ad blocker interference detected!
Wikia is a free-to-use site that makes money from advertising. We have a modified experience for viewers using ad blockers

Wikia is not accessible if you've made further modifications. Remove the custom ad blocker rule(s) and the page will load as expected.