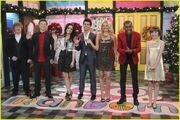 Joe-Nastics is on A So Random! Holiday Special with special guest star Joe Jonas. It's about Joe having Gymnastics and exercise moves which are really easy. At first a goth girl walks in and announces.
Starring
Sonny as The Goth Girl
Joe as Himself
Tawni as Herself
Grady as Himself
Chad as Black-haired boy
Nico as Other Black-haired boy
Moves (Shown on A So Random! Holiday Special)
Microphonas Jonas Dip
How Low Can You Joe? Power Slide
Windmill Joe
Run From Screaming Girls Move
Trivia
The whole cast is featured in this sketch, except for Zora.
Sonny is a rocker on here.
Sonny and Joe are seeming to enjoy each other on here, and after this they sing a duet together.
Ad blocker interference detected!
Wikia is a free-to-use site that makes money from advertising. We have a modified experience for viewers using ad blockers

Wikia is not accessible if you've made further modifications. Remove the custom ad blocker rule(s) and the page will load as expected.