"Gummy With a Chance" is the seventh episode of season two of Sonny With a Chance. It aired on May 9th, 2010.
Plot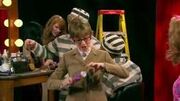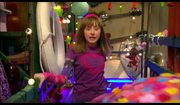 Sonny's ritual before every show is chewing gum and reading the joke on the wrapper. But when she accidently throws a piece of chewed gum on the side of the stage that causes Tawni to "almost die", Tawni has gum banned from the studio. Sonny believes that she can no longer be funny if she is not able to chew her gum, so she decides to, with Zora's help, who is collecting all of Sonny's chewed gum to create a gumball she calls, "
Gummy
", chew her gum in secrecy. Tawni catches Sonny and forces Sonny to give her all her gum. Sonny then decides that her only option is to leave
So Random!.
Meanwhile, Chad tricks Nico and Grady into powering his new green dressing room by exercising in his private gym. Throughout the entire episode Sonny is having strange visions of an "old lady laughing". It is not until the end of the episode, when Tawni is waving a piece of gum in front of her face that she realizes why chewing gum is so important to her being funny. Back in Wisconsin, her Aunt Fanny used to give her a piece of gum anytime she made her laugh. Sonny realizes that it wasn't chewing gum that made her funny, she was always funny on her own and didn't need the gum to help.
Nico eventually figures out that Chad is up to something and he and Grady decide to get back at Chad by over powering his dressing room while he is in the middle of a photo shoot. The electricity in Chad's dressing room starts going haywire and eventually leads to Chad running out into the hallway, where he is run over by Zora's gumball "Gummy".
Sketches
Unseen Sketches
Cast
Guest Starring
Carol Kiernan as Aunt Fanny
Co-Starring
Jenni Cardone as Reporter
Trivia
This episode referenced That's So Raven with Tawni saying "Vision? Who are you? Raven?".
During the scene in the cafeteria, where the Cast of So Random! is cleaning gum from the bottom of the tables and chairs, Sonny is wearing the same bow necklace Tawni wore in the episode "Sonny So Far"..
This is the first time we see Chad's dressing room. The second time is in "That's So Sonny".
This is one of the episodes where Nico and Grady pull a prank on Chad
Nico and Grady outsmart Chad in "Poll'd Apart" and "Gummy With a Chance." Note: Poll'd Apart is the seventh episode of Season 1, while Gummy With a Chance is the seventh episode of Season 2.
Raven is mentioned and later appears in the episode "That's So Sonny".
When Sonny is coming into work after her first bad show, one of the props next to the door is a "Roadkill McGill's" sign seen in the episode "A So Random! Halloween Special."
Sonny, Nico, Grady, Tawni, and Zora all have pre-show rituals. Sonny chews gum, Zora rips heads off of dolls, Grady dances, Tawni tears flowers and says, " I love ME, I love me MORE, I love me MOST!!", and Nico bounces.
It is not mentioned what happened to Zora's gumball after it ran over Chad, or if Zora got it back.
Also, nothing is said about Chad after he gets hit by the gumball.
Grady and Chad pronounced the fire alarm as "fihreh alarm"
This is the second episode to feature Sicky Vicky and is a big part of the episode; like Sonny With a Secret.
Running Gag
Tawni saying she "almost died" and making Sonny responding "But you didn't"
Sonny having visions of her Aunt Fanny.
Sonny freaking out whenever she sees Zora's gumball.