"Grady With a Chance of Sonny", also known as "Lady and the Vamp", is a Season 2 episode which aired May 23, 2010.
Plot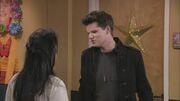 Grady dreads a visit from his big brother,
Grant
, who delights in teasing
Grady
, especially about his lack of success with girls. Feeling bad for Grady, who can't seem to stand up to his brother,
Sonny
pretends to be his girlfriend. However, she's dismayed when their charade interferes with a budding romance between her and an attractive actor,
Blake Radisson
, from a vampire movie. Sonny and Grady decide to break off their fake relationship, in hopes that Sonny can then move on and date Blake. But when Grant claims that he is planning on flirting with Sonny as soon as her and Grady break-up, Grady refuses to break-up with Sonny to protect her from Grant. Sonny and Grady come up a plan that Sonny will act horribly disgusting to deter Grant from encouraging Sonny and Grady's relationship, as well as deterring Grant from flirting with her after they break-up. Unfortunately, their plan backfires, and Grant ends up liking Sonny even more. He refers to her as a "Grottie" (a gross hottie). Grady and Sonny decide that Sonny should be able to sneak a date with Blake in without Grant noticing, but Grant when overhears Sonny and Blake discussing their date, he knows something up. Grant makes plans with Grady to take him to Buca De Festor's that night and reveal that Sonny is cheating to
him. When they arrive at the restaurant, Grant assumes that Grady must now fight Blake and regain Sonny to preserve the honor of the Mitchell name. When Grady refuses to fight himself, Grant goes to step in, but Grady stops him. Grady admits that Sonny was only pretending to be his girlfriend. Blake begins to mock Grady about being a "dork". Sonny stands up for Grady, stating that she'd rather date a kind, sweet dork than a jerk. Sonny states she's done with Blake. Grant sees how Sonny stood up for Grady and tells him how he wishes he had a friend like Sonny. Not a girlfriend, but a girl that is his friend. Grant and Grady now have a stronger relationship with each as brothers. There is also a deeper friendship between Grady and Sonny.

Meanwhile, Nico and Tawni are awkwardly hanging out without Sonny and Grady. They eventually team up to prank Chad, who is promoting his new energy bar, "The Chad Safari Bar".
Cast
Guest Starring
Co-Starring
Absent
Trivia
TriDark parodies Twilight and Blake Radisson parodies Robert Pattinson.
This episode is also known as The Lady and the Vamp.
Sonny has a thing for buying shirts for her boyfriends/fake boyfriends. In
this episode, Sonny lies to Grant and says that she bought Grady the shirt he was wearing. In "That's So Sonny", she says that she bought Chad the shirt he was wearing.
Interestingly, this might be the second time that Disney has made a parody of Twilight. Good Luck Charlie parody Twilight using the word Dusk. Now, Twilight is parody using the word TriDark.
In Season 1, Tawni is interested in TriDark. But, in this episode, Tawni hates Tridark.
Blake Radisson is unknown if he really is Robert Pattinson because Jackson Tyler is in the TriDark series too.
This is one of the episodes where "Channy" moments are not shown. This happens even before Channy was official.
This is one of the episodes where Sonny stands up for her friends.
Though Sonny said that she would rather "date a kind sweet dork than a jerk", she dated Chad in Falling For the Falls whom she has called a jerk.
It is Implied that Grady has a crush on Hermione Granger From Harry Potter
Goof
When Blake and Sonny are in the restaruant, there is not much juice in the glasses, but when Grady and Sonny sit down at the end, there is much more juice in the glasses.
Ad blocker interference detected!
Wikia is a free-to-use site that makes money from advertising. We have a modified experience for viewers using ad blockers

Wikia is not accessible if you've made further modifications. Remove the custom ad blocker rule(s) and the page will load as expected.