Dakota's Revenge is a Season 2 episode of Sonny With a Chance. It originally aired on November 14, 2010.
Plot
At the beginning, Sonny, Tawni and Zora are standing around a laptop booking a movie, Hex and the City 2.
Nico and Grady come in, asking what they got for Dakota when she comes in with her new bike and announces the details of her birthday party.
It's Dakota Condor's birthday, and she forces the So Random! cast to give her a birthday present, or else. The theme of Dakota's party is "Wow Me!" as in giving her an amazing gift.
While Dakota's father gives her a new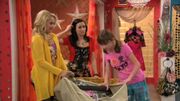 bike, which has a loser alarm because when it goes by the Randoms it beeps.
Tawni and Sonny accidentally destroy the bike with their car, and Zora tells them to go to Izzy, the wacky prop guy because he can fix anything.
Meanwhile, Nico and Grady hear
Chad
getting out his guitar singing "Dakota, it's your birthday and it shouldn't be baaadd, so sit back and enjoy some Chad
Chaddy Chad Chad."
And it turns out that he was going to give Dakota a song for her birthday, so Nico and Grady decide to ruin his plan.
Later, Sonny and Tawni go to see the prop guy Izzy, and he's almost finished with fixing the bike. But it seems like they're missing the bike's bell. It turns out that Dakota is wearing the bell and she refuses to take it off in till someone tells her who took her bike. So, they wait in till she's sleeping, then they take the bell from her to give to Izzy.
At the party, Nico and Grady tie balloons to Chad's chair. It makes him float up into the air as he's singing Dakota her birthday song.
Izzy gives Dakota her bike back, but it turns out that Dakota was not supposed to know about the bike and that she took the bike before her birthday, so she gets sent home. Dakota calls Mr. Condor a monster.
In the end of the episode, everyone sings Chad's awesome birthday song.
Cast
Guest Starring
Richard Libertini as Izzy
Trivia
This episode was originally entitled "Izzy in the Hizzy" with a plot about a replacement falls member for Penelope. This could be just a proven false rumor or a change of script. It is unknown.
Sonny has (wisely) given up trying to mend fences and be friendly with Dakota.
For once, Tawni and Sonny are together on the same page all throughout the situation.
Dakota is singing the Chad song with Mr. Condor, Chad, the So Random cast, and Murphy. This contradicts the climax of the episode where she is grounded as punishment for looking at her birthday present.
Chad's guitar strap is the same one Trey Brother's had in Sonny With a Song.
Before Sonny and Tawni enter the Prop House where they find Dakota sleeping, you could see off to the side of Sonny the logo for "Gotcha! with Gilroy Smith".
This is the third episode where Chad sings.thumb|300px|right
People think that the episode focuses on Penelope.
The episode was filmed after Sonny With a Choice, the break-up episode. But, Tawni asks Sonny "Where's your boyfriend?" and Sonny replies "I dont know. I haven't seen him all day." This may have been why this episode was aired before Sonny With a Choice.
This is one of the first episodes where Sonny and Chad haven't been seen together since they started dating, they would've probably had an interaction if Sonny and Tawni hadn't of left the room when Chad came bursting in through the sky.
This episode features the only appearance of Izzy, and last appearances of Dakota Condor and Murphy.
In the credits where the cast is singing the Chad song, Zora and Dakota are seen wearing matching bandannas, even though they are shown as enemies.
References