"Cookie Monsters" is the twentieth episode of Sonny With a Chance. It aired on November 15th, 2009.
Plot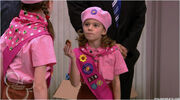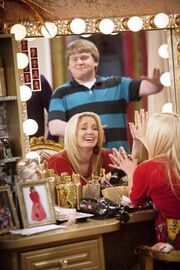 Zora
plans to break the
Blossom Scout
record for most cookies sold, and
Sonny
plans to help her as it is revealed that she was only one badge shy of becoming a Blossom Scout. Once
Dakota Condor
finds out that Zora is trying to break the record, she becomes a Blossom Scout, just to try and beat Zora.
Chad
helps Dakota sell cookies as Dakota could easily ask her daddy to fire him or cancel his show.
It turns out that Zora and Dakota's Blossom Scout leader, Mrs. Montecore, is Sonny's old scout leader from Wisconsin, which gets Sonny scared because of old memories of being rejected. Both of the teams try to sell the cookies by bribing the customers. It goes to the extreme when Sonny pulls a person out of Dakota's que and into Zora's, but Mrs. Montecore sees and bans Zora from the blossom scouts as what Sonny did was in direct violation of Blossom Scout Code 164-B.
Meanwhile, Nico and Grady come up with a scent named "Girldozer" which they use to attract girls, they add many things that "girls like" (Jewelry, flowers, bubble bath, chocolate,etc.) but it ends up attracting way too many/all of the girls on the studio lot. Tawni promises not to look in the mirror for two days, which at first makes her look slightly eccentric, then daunting, and then she looks like The Joker, but it also is revealed that when Tawni isn't constantly admiring herself in the mirror, she's an extremely deep and caring person. Sonny tries to get Mrs. Montecore to put Zora back in the Blossoms, but accidently causes her to sprain her ankle, which Zora wraps.
As the Blossoms weren't learning ankle safety for another three months, Mrs. Montecore puts Zora back into the Blossoms, but they fail to sell many. When they see Nico and Grady being chased by girls, they decide to use their "Girldozer" body spray to help them sell cookies. They spray all of the remaining spray on the cookies and the girls who were chasing the boys now run to the cookies, and Zora and Sonny end up selling all of their cookies. Nico also shows Tawni what she looks like in a mirror and Tawni runs out of the room screaming.
When Dakota and Zora both tie with the most amount of cookies sold. Mrs. Montecore reveals to the girls there aren't anymore boxes to be sold, so they are going to have to share the record. The girls are angry with this outcome, but when Chad says that he has a box everyone begins trying to get it from him. In a panic, Chad rips opens the box and pours all the cookies into his mouth. He begins yelling at the girls with his mouth full of cookies and suddenly starts choking. Sonny gives Chad the "Heimlich Maneuver" and saves him from choking. Mrs. Montecore happily gives Sonny her Blossom Scout sash because she finally showed her that she did in fact know how to save a choking victim. Mrs. Montecore removes Dakota from the Blossoms because she cares more about selling cookies and beating Zora than saving Chad from choking.
After Mrs. Montecore leaves, Zora and Dakota start fighting with Sonny and Chad holding them back, but as Zora and Dakota fight Chad and Sonny start arguing about Chad not thanking her for saving his life. Chad claims he was faking it so Sonny could get her "stupid little merit badge," but Sonny is convinced he was choking for real. Sonny and Chad then set their respective girls behind them and start lunging at each other to fight, but Dakota and Zora are holding them back.
The episode ends with Tawni talking to herself in her makeup table mirror about how much she missed her old self.
Cast
Guest Starring
Trivia
The girl who plays young Sonny (Madison De La Garza) is actually Demi Lovato's younger half sister.
The "Blossom Scouts" parody the Girl Scouts of the USA.
The title parodies the Cookie Monster from Sesame Street.
When Tawni says "Why so serious?" and when Sonny calls Tawni the Joker, it is an parody of the Batman movies.
Tawni is quite nice without mirrors. Meaning, she has a personality (naughty) with mirrors. But, she is quite nicer in season 2 even with mirrors.
Ad blocker interference detected!
Wikia is a free-to-use site that makes money from advertising. We have a modified experience for viewers using ad blockers

Wikia is not accessible if you've made further modifications. Remove the custom ad blocker rule(s) and the page will load as expected.