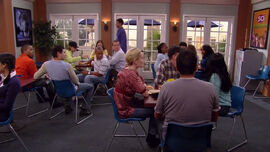 Condor Studio Cafe
is the cafeteria inside Condor Studios where everybody goes to eat. It is adjacent to Stage 6, and is located in one of the upper floors of Condor Studios. Posters of the TV Shows that shoot on Condor Studios were hung up on the cafeteria walls, and have been noted to change positions regularly.
Commissary Hours
Breakfast: 7:00 am - 10:15 am
Lunch: 11:am - 2:30 pm
Snacks: 2:30 - 4:00 pm
Staff
Food
Staples Each person is entitled up to 2 pickles only.
Frozen Yogurt
Burritos
Beverages
Meatball Sub (Mondays only)
Taquitos (Tuesdays only)
Fajitas (Fridays only)
MacKenzie Falls Menu
Due to Brenda's favoritism, the cast of MacKenzie Falls get better food than everyone else
Porterhouse Steak
Lobster
Bananas Foster
Daily Specials
As seen in Falling for the Falls.
Crazy Mac n' cheese
Garden Greens
Condor Collection
Specials
Sonny at the Falls

Chicken Knuckles with Decreamed Corn
Battle of the Network's Stars

Tinafish sandwich
Annie Surprise
Klocki Chicken plus drinks
Sonny in the Middle
Cookie Monsters

Zack & Cheese
Seaton Stew
Pasta Farame
Walk a Mile in My Pants

Matza ALA Isaac
Bellaroni
Enchiladas Eleanor
Oweenies in a Blanket
Sonny Get Your Goat

Lucy's B-Day Special
Chicken Orich
Rice Pilaf
Stir-crazy Vegetable
Great Barrier Beef
Almond Ring Ding
Sonny with a Song

Chance Stew
Tess Surprise
BLZ Sandwich
Gummy With a Chance

Schwartz Shawarma
Caroline's Pork Ribs
Amélie AuLait
Random Acts of Disrespect

Pratt Pot Stickers
Danberry Pie
Kendell Kugel
Grady With a Chance of Sonny
Half American and Half Wisconson Cheese Ball (Specially made for Sonny.)
Ad blocker interference detected!
Wikia is a free-to-use site that makes money from advertising. We have a modified experience for viewers using ad blockers

Wikia is not accessible if you've made further modifications. Remove the custom ad blocker rule(s) and the page will load as expected.