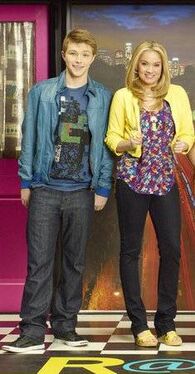 Chawni is the pairing of
Chad Dylan Cooper
and
Tawni Hart
(
Cha
/d + T/
awni
) from
Sonny With a Chance
. The two have known each other since they were children. They starred in a show called
The Goody Gang
when they were younger. However when they grew up there was a rivaly between their two shows (
So Random!
and
MacKenzie Falls
). When Disney Channel showed promos for
Sonny With a Chance
, it looked llike Tawni and Chad had a love/hate relationship but it was Sonny and Chad with the love/hate relationship. Originally, Disney wanted Chad and Tawni to have a relationship, but it was Sonny and Chad who got the relationship.
elationship on the show. In "Chad Without a Chance", Tawni paid Chad to do her breakups. In "My Two Chads" Tawni convinced Sonny Chad was cheating on her.
Chawni Moments
These moments illuminate the relationship between Chad Dylan Cooper and Tawni Hart.
Season 1
Tawni wanted to know what happend between Sonny and Chad
Tawni is jealous of Sonny at the falls
Tawni hid Sonny's fanmail to make it look like no one cared about her.
Tawni tried to embarress Sonny infront of everyone including Chad
Tawni warned Sonny what to say or she'll look bad
Tawni didnt care about not taking Sonny to Chad's party
Tawni stole Sonny's best friend away from her and they went to Chad's Birthday Party

At the end Tawni was the only one eating cake off of Chad's face,while Sonny and Lucy were eating from the cake
Chad only invited Tawni and Sonny to his pa
rty
Tawni knew Chad was jealous of James and Sonny going on a date
Tawni could see it in Chad's eyes,that means she also knows him well
[[Sonny and the Studio Brat|

]]
Tawni AND Chad both ruined James and Sonny's date
Chad, Tawni and Sonny came up with a plan to get back at James
In the beggining Chad sat next to Tawni.
Tawni wanted to be Prom Queen
At the end when they were all dancing Chad and Tawni were dancing net to eachother
Tawni is jealous of how cute Sonny looked
After Sonny messes her dress up Tawni gives her an ugly mermaid one
Tawni spies on Chad and Sonny's "date" at Lookout Mountain
When Chad drives with Nico, Grady, and Tawni they leave Sonny with Marshall and Joy Bittterman
Tawni was happy she got to be in Chad's Movie
Tawni thought that Chad's movie would make her a movie star
Chad set Tawni up an audition(even though it was fake).
Tawni did a Fashionita immpression in front of Chad
Chad always stands near Sonny or Tawni when he enters a room with her in it.
W

hen Chad was giving Sonny her gift, you could see Tawni using "Bluegh" noises,meaning she could be jealous.
Chad gave Tawni a gift.
Chad and Tawni were both really upset and jealous when they found out tha t Sonny kissed Hayden and that they saw the kiss on the cover of Tween Weekly.
Tawni's relationship wit h Hayden didnt last.
Chad comes bursting into "Tawni's" apartment
Tawni admitted she had a crush on Chad when she was younger
When they were younger they kissed
They both starred on "The Goody Gang"
Tawni had ow problem kissing Chad again
Tawni can't look in the mirror
Tawni turned the T.V off when Sonny and Chad were admitting there feelings for each other
Tawni looked shocked when she saw Chad and Sonny in "West Coast Story"
Tawni knew what type of look Sonny had when she thought of her and Chad dancing at the prom
Season 2
Tawni sold Chad her Skinny Jeans even though he's her rival
Chad said the Randoms look hot so that obiviously doesnt mean Nico and Grady
Chad was jealous of how 'hot' they look so he bought a pair
When the crowd is singing Tawni is dancing near Chad (This is the 3rd time this series).
Tawni kept purposely saying Gassie and We showing she can be arogant just like Chad
Tawni was choking Sonny
When Tawni askes "Does hitting Sonny with a log count?" Chad quickly said, "If we pick it out together does it count as bonding?"
Tawni threatns Sonny alot in this episode.
Tawni and the randoms were laughing at Chad's curls
Tawni and the rest of the cast were mad at Sonny for going on a date with Chad
The Randoms came bursting to Sonny's house to ask her about the falls.
The Randoms are curious at why Chad was at her apartment in the 1st place
The Rrandoms draw on Chad's "Chad is a fool for Sonny" poster
When Sonny mistakenly said Chad, Tawni was the first person to correct her
Tawni still tried to make plans with Amber even though she's a wakadoodledoo
Tawni said Amber was the best facialist ever even though she tried to break Channy up
When Chad had to choose between each random he chose Tawni (even though she payed him)
Tawni helped Chad up when he fell
Chad did Tawni's break-ups for her he also stated that it was fun
Tawni 'broke up' with Chad at the end
On their one week-a-versarry, Sonny says "and they thought we'd never last" implying that the Randoms thought they wouldn't even last a week together.
When Sonny refused to get back together with Chad you can see Tawni in the background smiling and laughing
Tawni and Chad both use the term "Sonny It Up"
They both think Sonny's gonna ruin Zora's chances with Wesley
Tawni ask Sonny Where's Your boyfriend?
At the end Tawni is one of the people singing Chad Chad Chaddy Chad Chad
Tawni wants to know when Channy's gonna kiss
Twani has the script for Mackenzie Falls
Tawni hoped that it would bug Sonny that Chad is kissing another actress
Tawni's sketch character (Cindy) dated Chad's character (Prine Carmine)
Official Chawni Stuff
Official Chawni Color: Blonde since they're both blonde
Official Chawni Number: 6 They were 6 years old when they starred on The Goody Gang
Official Chawni Song: The song from The Goody Gang
Official Chawni Personality: Selfish, since they are self-centered some of the time.
Ad blocker interference detected!
Wikia is a free-to-use site that makes money from advertising. We have a modified experience for viewers using ad blockers

Wikia is not accessible if you've made further modifications. Remove the custom ad blocker rule(s) and the page will load as expected.