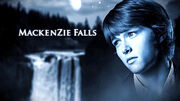 Chastity Ann DeWitt (Ashley Jackson) is the actress who portrays Chloe in the hit tween drama MacKenzie Falls.
She is one of the main cast members of MacKenzie Falls. She was Grady's partner in the trust exercises in "The Legend of Candy Face" meaning that she dislikes him the most or vice versa. Despite appearing in many episodes, little is known of her. She is usually shown on the MacKenzie Falls set, playing MacKenzie's love interest. She is well known in the episode "Falling for the Falls". In "Falling for the Falls Part 2", she is the first one to be suspicious and is the first character to be seen excluding Chad.
Appearances
Trivia
Chastity, along with some or all MacFalls cast members are referred to their names in the MacFalls series.
Ad blocker interference detected!
Wikia is a free-to-use site that makes money from advertising. We have a modified experience for viewers using ad blockers

Wikia is not accessible if you've made further modifications. Remove the custom ad blocker rule(s) and the page will load as expected.