"All Star Wheel of Fortune" is a So Random! sketch. It is the first sketch to be seen in the spin-off. It is about a recurring character (possibly the actor Shayne Topp) who plays Pat, the main host trying to make the contestants spin the wheel.
Plot
Pat, the main host shows up and introduces the contestants, Fred (Chad), Taylor (Tawni), and Willow (Nico). Everytime Pat introduces the contestants, he gets stuck with him. Fred, who is very talkative, talks to him so much and runs away with Pat saying, "What a talented young man."
Up next is Taylor, where in Pat introduces her as the girl who turns anything happens to her a hit single. Taylor makes a tune describing what Pat did in the beginning of the show, which is introducing, what she did, which is standing there and listen, she also describes how sparkly the curtains are and says "Hey that's Vanna." Taylor makes another tune, but Pat stops her.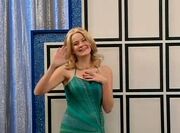 Up next is Willow, where Pat gets whipped by her hair. He finds out that Willow repeats everything she says. Pat tells her to stop and Taylor makes another description to a song. Pat stops her, with him saying Fred to spin the wheel. The category is place. Fred gets all hyped up and Taylor makes another description into a song after Pat telling her it's her turn. Pat calls her princess obvious. But Taylor makes another description to a song making Pat tell Willow it's her turn. But Willow kept repeating what she says. So he goes back to Fred. But Fred kept talking so he goes to Taylor and tells her to just forget the wheel and say a dollar amount. But Taylor complains and asks if she can just sing it instead of saying it.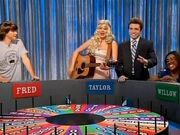 Suddenly a sound occurs meaning they are out of time for round one and they didn't even start yet. So he tells Willow that he will just say it and Willow just say it and she will win. But Willow says "I'm Gonna Win" three times and the phrase is actually Gonna Win, Gonna Win, Gonna Win making Pat say unbelievable. When Fred spins he rips half of Willow's hair; with Pat saying thank you and goodnight. Taylor sings "I think Pat just quit his job." Vanna gets annoyed of Fred and rips a part of the board, hitting Fred to stop him and says "Your Welcome, America" ending the sketch.
Trivia
People think that this sketch is similar to SNL; wherein some writers are actually from SNL.
It is very unlikely that Fred can rip Willow's hair in reality.
Gonna Win, Gonna Win, Gonna Win is the answer but the category was "Place".
Taylor used the same tune in all descriptions except for the ending
This is a parody of Wheel Of Fortune except it's All-Star edition.
The characters in this sketch are parodies of Fred Figglehorn (the main character of a popular show on YouTube created by Lucas Cruikshank, who also plays Fred), Taylor Swift (a country-pop singer that is known for turning most things that happen in her life, specifically break-ups, into songs), and Willow Smith (the daughter of Will and Jada Pinkett Smith, best known for her hit single "Whip My Hair." Nico, who played Willow in this sketch, flipped his hair for Willow Smith's well-known and continuous flipping of her hair throughout the music video for "Whip My Hair.").
Quotes
Taylor (Tawni) [Singing] : Do I have to say it can I sing it?
Pat : [Singing in the same tune as Taylor (Tawni) : No you cannot.
Willow [Repeating] : I'm gonna win. I'm gonna wiiin! I'm gonna....WIN!
Fred [Talking really fast. while whipping a piece of Willow's hair] I whip my hair. I whip my hair!
Ad blocker interference detected!
Wikia is a free-to-use site that makes money from advertising. We have a modified experience for viewers using ad blockers

Wikia is not accessible if you've made further modifications. Remove the custom ad blocker rule(s) and the page will load as expected.