"A So Random! Halloween Special" is a Season 2 Episode of Sonny With a Chance. The episode first aired on October 17, 2010.
Plot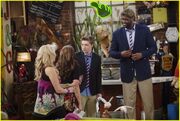 This special episode is comprised of mostly sketches, including a very special guest appearance by Shaquille O'Neal and Allstar Weekend. Sonny sings her new song, "Work of Art".
The episode starts with a Check it Out Girls sketch where Alexa (Sonny) and Sabrina (Tawni) have dressed up as each other and are annoyed to have to work on Halloween. The first customer is a zombie (Nico), who manages to get his arm pulled off by the girls.
The title scene in this episode is not the usual Sonny with a Chance one ("So Far So Great" theme song opening), instead it is the So Random! opening.
'The Voice' then introduces Shaquille to the audience, but he doesn't turn up. The scene then changes to back stage where Sonny suggests that Zora stalls the audience to give them time to find 'eight feet of dude'. Zora attempts to tell a 'scary' story about a lawyer and a werewolf that walk into a juice bar.
Meanwhile, the other cast members manage to find Shaquille in the Prop House photo booth, hiding as he is scared of standing in front of a live audience. Sonny and Tawni try to calm him down and ask him what would calm him down. It turns out that he has to act out a scene of MacKenzie Falls. The scene Sonny, Chad and Shaquille act out is about MacKenzie's identical twin brother, played by Shaquille. Shaquille agrees to finally go on as long as he can keep the MacKenzie Falls outfit. Sonny suggests he keeps Chad.
The scene changes to Zora's terrible punchline of her 'scary' story which receives no applause. Luckily that's when Shaquille comes to take over, introducing the sketches and performances in the show.
Sonny
Sketches
Check it out Girls Halloween Style: The girls get a Halloween visit by a huge dracula. The girls switch their hair colors in an attempt to be each other for Halloween. Sonny (Alexa) is wearing a blonde wig, Tawni (Sabrina) is black haired wig.
Making Babies Cry: A song in which Nico sings about how he enjoys making babies cry.
The Monster Under My Bed is a Jerk: Jasmine (Zora) has a monster named Dooper (Grady) under her bed, but her mother (Sonny) doesn't believe her.
The Halloween Party Do's and Don't's: Carve pumpkins, don't carve onions. Tell ghost stories, don't tell toast stories. Bob for apples, don't apples for Bob.
Roadkill McGill's Roadside Diner: Paul, the owner, serves roadkill to the patrons at his diner.
Songs
Work of Art: Performed by Sonny Munroe (Demi Lovato).
Come Down With Love: Performed by Allstar Weekend.
Cast
Guest stars
Trivia
The Spin-off "A So Random: Christmas Special" is presented later in the Season
Sonny/Demi has blonde highlights in this special episode.
This is the fourth episode where Sonny sings.
Chad appears in the episode even though fans were skeptical whether or not he would be present.
This episode does not feature the typical Sonny With a Chance introduction. Instead, it features the So Random! show introduction. This is the first time that a So Random! opening-introduction sequence has been shown in its entirety.
It is shown that part of this episode may have been filmed later than others, for Demi's hair changes from having blonde highlights to having all black hair.
This is the first episode that only has sketches in it.
This is also the only episode that features two songs in it instead of one.
The sketch, "Roadkill McGill's Roadside Diner", was mostly likely filmed towards the beginning of filming of season two, due to the fact clips of it were shown in the original promos for season two.
This is the last appearance of the "Check it Out Girlz" sketch.
Demi has black hair in the Roadkill McGill's sketch, but has lighter hair in the rest of the episode.
Tawni's genie costume looks like the one used in Wizards of Waverly Place, which are both parodies of the genie costume in "I Dream of Jeanie."
In the beginning, it seems like a regular episode, except later on there are more sketches.
References
Ad blocker interference detected!
Wikia is a free-to-use site that makes money from advertising. We have a modified experience for viewers using ad blockers

Wikia is not accessible if you've made further modifications. Remove the custom ad blocker rule(s) and the page will load as expected.